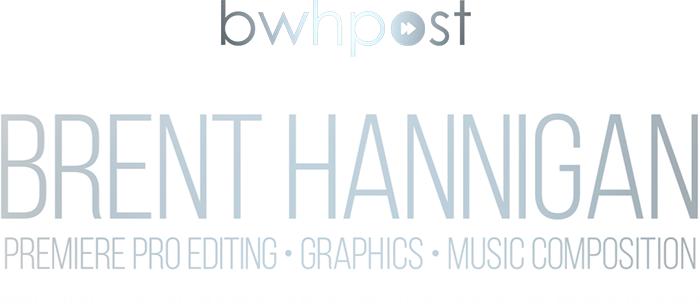 "As a kid I edited audio movie trailers with cassette players and made stop motion animated Super8 films in my bedroom. The technology, my life experience and skills have changed over the years but the desire to make something that moves people is the same now as it was then. I love to edit and compose music and it's all I have ever wanted to do." 
- Brent Hannigan, BWH Post
​

"Brent Hannigan brings a fresh perspective, knowledge of past and present styles, techniques, and technology, while being firmly grounded in story telling that engages the audience. Collaborating is a pleasure because he has a witty sense of humor, his ideas always make the project better than I envisioned, while at the same time he understands there are other ideas or variables that require another direction. These are all traits that come with experience and hard work."
Bob Maraist, producer, director, World View Productions, Inc.
"Brent has mastered the art of storytelling. He understands the power and emotion that an editor brings to a film. As someone who has known and worked with the very best editors, I definitely recommend Brent Hannigan to those who seek a true editor.
"
​Ken Hall, editor and partner, Storyview, LLC
​​​​​​​ 
"Brent has a very intuitive sense for editing that both saves time and gets to the heart of an excellent product. Fast, proficient and full of good ideas, I highly recommend Brent to anyone who is seeking a consummate professional."
Tracy Ullman, producer, NBC UNIVERSAL
​

"
A collaborative trouble-shooter in the edit room—Brent astutely gets to the heart of the matter with gorgeous results. He's also a workhorse. A perfect mix for an editor."
FOR MORE INFORMATION, RATES AND AVAILABILITY PLEASE CONTACT BRENT AT BWHPOST USING THE FORM BELOW.

brenthannigan@mac.com
773-213-3357